Volkswagen
The History of Colindale Volkswagen
Citygate Volkswagen Colindale, one of Citygate's first dealerships, has sadly stopped retailing this month. The site was rich in history long before we took ownership. With time refusing to slow down, it's easy to forget what once stood in place of all these shiny, modern buildings. To honour its humble beginnings, we spent some time looking into where it all started.
Along our journey we were privileged enough to meet Ray Thacker, whose family originally opened Colindale Service Station on the site. If you ventured down Edgware Road today you would see it has dealerships in abundance but Colindale Service Station was the first. As you can see in the below picture, the original building was modest in size but the signage details everything it had to offer, from used car sales to panel beating.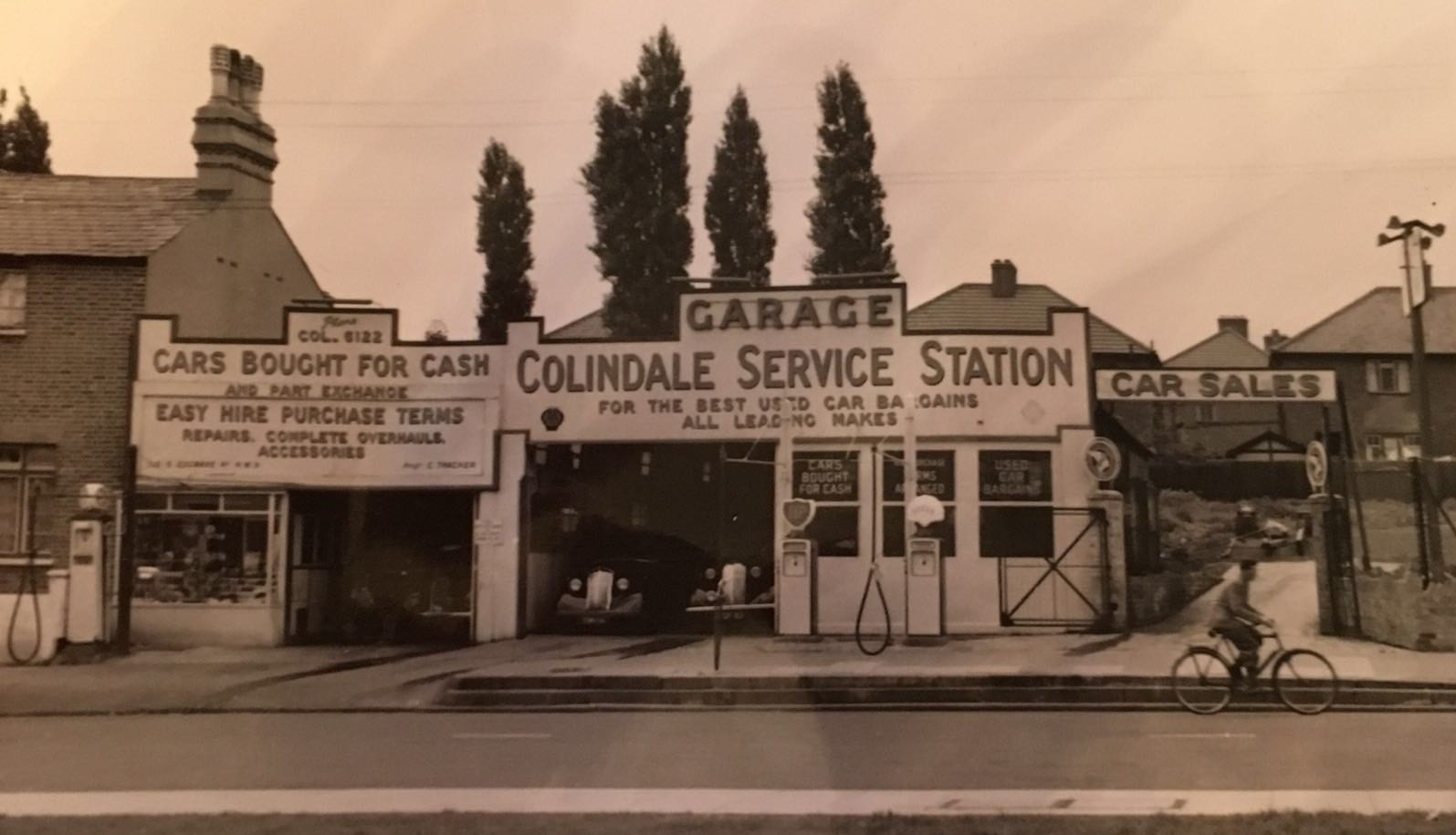 This 'can do' attitude is what grew the business from strength to strength. Ray's passion for Volkswagens led him to secure a deal with Volkswagen themselves and the formerly modest building was transformed. The three-story showroom made use of its roadside position with glass frontage so passers-by could see the beautifully sculpted Beetles. Up to 40 used cars were spread across the ground floor with the new vehicles in prime position up a set of stairs on the second floor. The size and stature of this showroom is impressive even today, but in 1968 this would have been a marvel.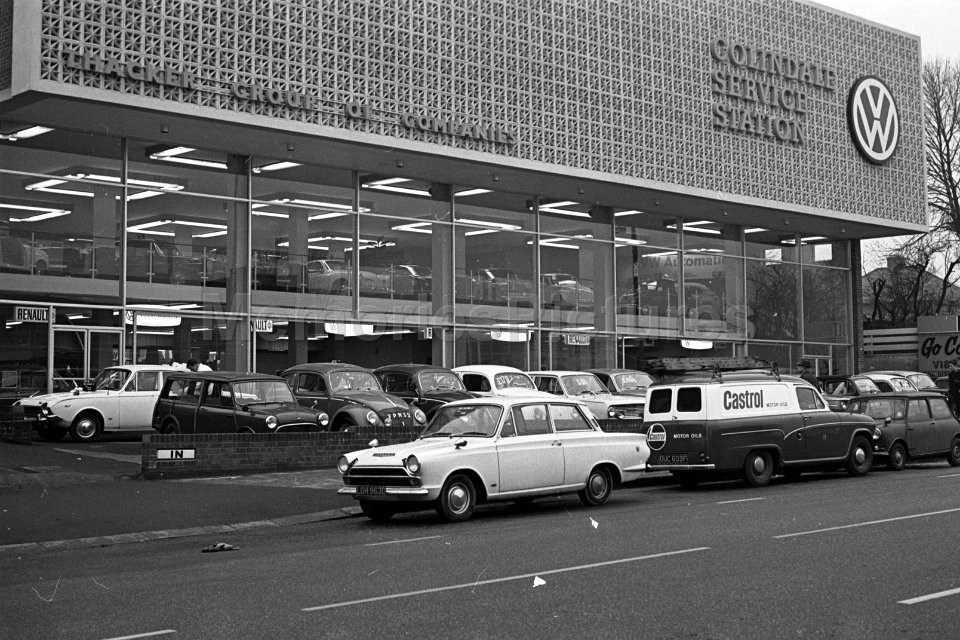 The interior was just as grand, Ray tells us of the big mirrors that used to adorn the walls, each proudly engraved with the Volkswagen logo. The car buying experience was transformed with a plush seating area and exotic plants decorating the showroom, adding a sense of extravagance.
The third floor housed the workshop with all the latest equipment, most of which had been brought over from Germany. Colindale Service Station was the first dealership in the UK to have a low-bake oven which meant it stood out amongst competitors with the scope of work able to be carried out in the workshop. The centrepiece was the auto lift which meant cars could be transferred between floors, this is still used for the same purpose today. Finally, the roof had space to park up to 40 cars making Colindale Service Station one of the largest dealerships in England at the time.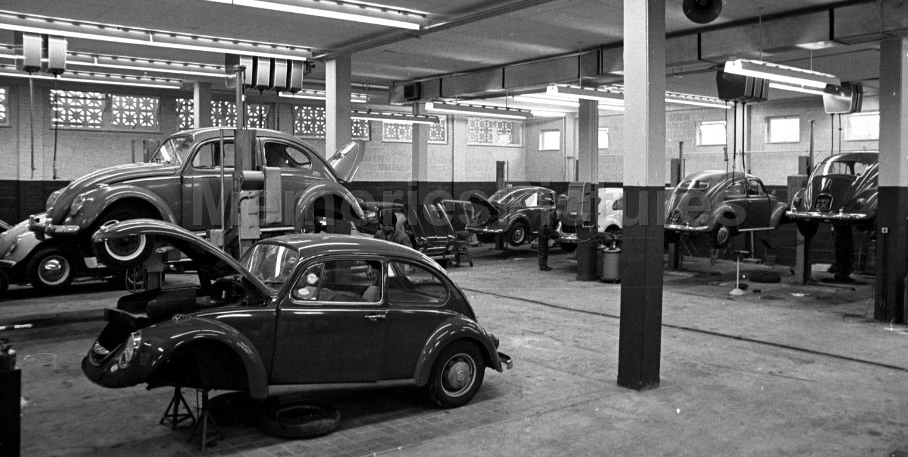 A large part of Ray's success was down to his bold moves and showmanship attitude. The Colindale Service Station was advertised on both the Tottenham and Chelsea football grounds, 400 London buses and 250 London Underground trains.
Perhaps his most famous advertisement was the ITV commercial where he parachuted into the showroom. This was not only a very unique marketing idea but also the very first advert from a car dealership in the UK to be shown on National ITV!

A huge thank you to Ray for inviting us into his home and taking the time to tell us all about the history of this amazing dealership and showing us all the pictures and newspaper clippings he has kept. We are very sad that Citygate Volkswagen Colindale has closed as the Volkswagen brand has been represented here for over fifty years. Although a lot has changed since its humble beginnings as Colindale Service Station, there is no doubt that Colindale Volkswagen will be remembered by lots of happy customers and colleagues.
Although Citygate Volkswagen Colindale has now closed, we have lots of other dealerships across London and the South East. Our closest dealerships to Colindale are listed below, the staff there will be more than happy to help and you might even recognise some friendly faces!
Citygate Volkswagen Ruislip
664 Victoria Road, Ruislip, Middlesex HA4 0LN
Enquiries - 020 3199 8402
Service Booking - 0330 012 0242
Citygate Volkswagen Watford
Unit 3 Otterspool Way, Bushey, Hertfordshire WD25 8HL
Enquiries - 020 3199 8406
Service Booking - 0330 012 0242